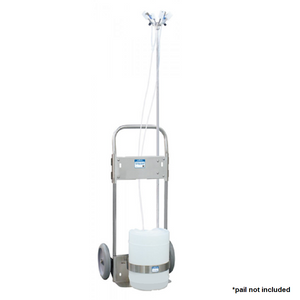 Fogging Machine - 4 Way, Telescopic
20L, High-spec, 4-way, Telescopic Fogging Machine
A Portable, stainless steel cart, chemical Fogger that uses compressed air and venturi action to draw ready-to-use chemical solution from a 20 litre drum (drum and compressor not supplied). It fogs the solution and projects it as light "damp" fog particles in 4 directions up to 25 feet / 8 metres.
This unit features an adjustable telescopic mast and 4-way fogger head for quick disbursement of chemical in all directions (360 degrees). If necessary, the user can close one or two valves to use it as a 3 or 2-way fogger to avoid projecting fog straight into a wall.
Unlike some cheaper foggers, these are made from durable high end material and are made to last. Machined polypropylene fogger heads with stainless steel and nickel plated brass fittings for chemical resistance. This unit is for customers who value quality and long term reliability above cost considerations alone. All fogger systems are individually performance tested prior to shipping.
Models:
At this time we supply the following high spec fogger which is suitable for most factories.  
Other foggers (smaller or larger models) are available on request.
---
We Also Recommend