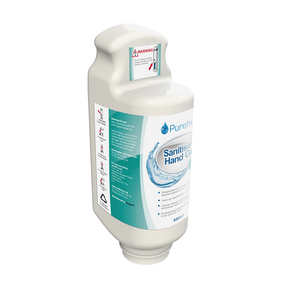 Purehold PRO - Box of Gel Refill Bottles
Box of Gel Refill Bottles for use in the Purehold PRO Gel Dispensing Door Handles.
Available in ALCOHOL or ALCOHOL-FREE OPTIONS
Purehold gel refills are bespoke to the Purehold PRO handles and gel from other suppliers cannot be used with the Purehold PRO. 

For a copy of the Purehold Material Safety Data Sheet (MSDS), please contact us.
**CORONAVIRUS (COVID-19) ON DOOR HANDLES**
Scientists have confirmed that Coronavirus (COVID-19) can survive on door handles for up to NINE DAYS. As a result, there's never been a better time to install the Purehold range of hygienic door handles at your site, to help reduce the risk and spread of Coronavirus between door users. 
Our Purehold PRO gel-dispensing door handles use our virucidal gel (tested to EN14476) that has 80% alcohol* content and that has been proven against viruses similar to Coronavirus (COVID-19), including Murine Norovirus, Adno virus and Polio virus.
* The UK Government, NHS and Public Health England recommend the use of an alcohol-based hand sanitiser that contains at least 60% alcohol content to ensure that it can kill viruses.
---
We Also Recommend